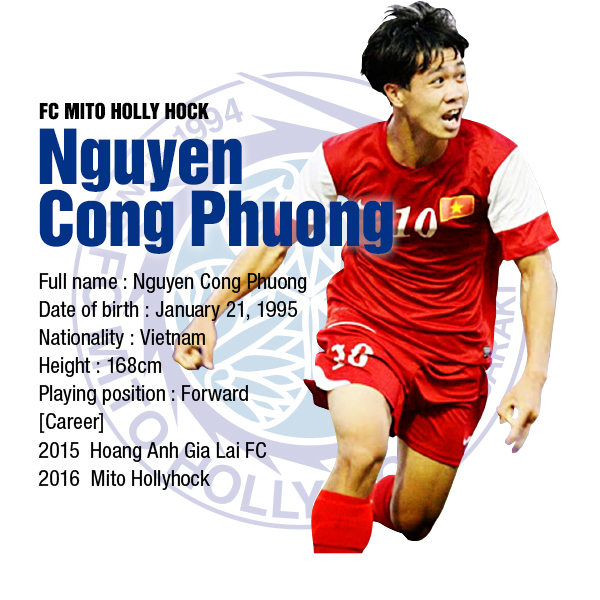 The J.League has long been referred to as the 'Premier League of Asia', and this season will see the division further build upon that reputation as it welcomes more of the continent's finest young players to Japan.
The highly-rated Vietnamese duo of Nguyen Cong Phuong and Nguyen Tuan Anh have both agreed season-long deals with J.League clubs, with Cong Phuong signing for Mito Hollyhock and Tuan Anh with Yokohama FC.
They are following in the footsteps of Indonesia star Irfan Bachdim, who signed for Ventforet Kofu three years ago and is now playing for Consadole Sapporo, and their Vietnamese compatriot Le Cong Vinh, who spent six months with Sapporo in 2013.
"I'm very happy to have the opportunity to play in the J.League," Cong Phuong said ahead of the 2016 season, which kicks off at the end of February."The division is very good but I will try my very best. Japanese players are very strong and have great technique - they play quickly.-"
Mito has a reputation for nurturing talented young players, with Japan internationals Marcus Tulio Tanaka and Tsukasa Shiotani both having spent time at the club in their formative years. Borussia Dortmund's Park Joo-ho also represented the Ibaraki club, and president Kunio Numata is hoping Cong Phuong can emulate that success.
"This season he will wear the No.16 shirt, which is the same number worn during his time at Mito by Park Joo-ho," he said."In order to help turn Nguyen Cong Phuong into another player who can spread his wings out in the world we will take very good care of his development here."
Unfortunately, fans will have to wait and see how Cong Phuong gets on at his new club after he picked up an injury in Vietnam's final game at the AFC U23 Championship. He had given his side the lead against United Arab Emirates with a 24th minute penalty, but landed awkwardly while chasing a through-ball in search of an equaliser with them 3-2 behind in additional time and fractured his clavicle.
The 21-year-old is not letting that bad luck disrupt his preparations though, and is determined to be back in action and making an impact for his new club.
"Injuries are a part of football and I will return to the pitch as soon as possible. I hope everyone will be with me and encourage me. When I come back, I will give my all to play well and reach my best form.
"My target is to try and become a starting member and to score goals. I will try my best to play well in order to earn promotion to J1."
Cong Phuong's Hoang AnhGia Lai FC teammate Tuan Anh is another exciting Vietnamese prospect preparing to test himself in the J.League.
He also found the net in the defeat to UAE in Qatar, and as a technically gifted and proactive player he looks well suited to achieving success at Yokohama FC.