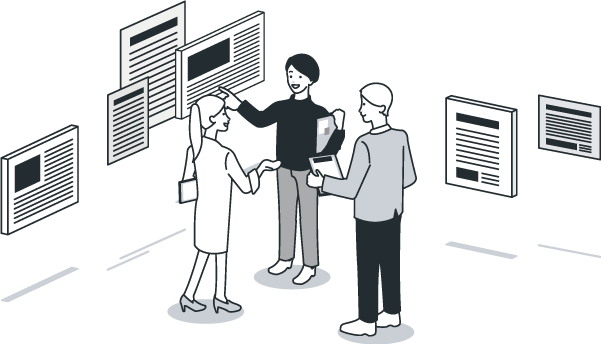 ニュース news
【ENGLISH】Media Award
Solve local social issues with grass! Make the community and people happy with Shibafull! (Gainare Tottori)
■Media Award 
Adults that continues to challenge - The story of Tottori -

For the media award, we have included media members from newspaper, TV, magazines, and internet to the selection committee. The media members were from a wide range of genre such as, social, local and sports. This was the first time to create a selection committee for this category, so the discussion started off by the question of "What is a Media Award."
"There are many ways to look at this from a scale or impact level and other perspectives such as innovation, element of surprise, and what angle you are focusing from."
"It's easier to feature if element of originality, uniqueness, and locality all fall on each other.
"We would like to value, the locality perspective as J.LEAGUE has clubs all around the country."
"We do not just want to look at the results, but the growth of the clubs and staffs involved within the context of the recent SDG movement and whether that is valued as well."
It resulted as a learning experience for us to know about what media professionals are thinking about when they conduct an interview. There were many opinions brought up, but we still had to narrow it down to one.
In that case, we thought to utilize our identity as a media and decided to vote in the perspective of "Which project do we want to actually interview."  As a result, Tottori was elected by a wide margin.
We will share some of the comments we received regarding the Tottori project.
"It attacked an issue of looking at the fields that are abandoned and no longer cultivated, which is visible around the country. Setting a theme and working toward that was a unique project."
"It was a strive from a J3 local club. It demonstrated that even if your club is fairly small scale, having creativity and originality can make things possible. It gives courage and we get the feeling they are representing J.LEAGUE well."
"It's tremendous that they are not ending this as a social contribution but working to make this a business."
"Involving the future generation gives you hope for the future."  
"We would like to demonstrate the story of Mr. Takashima, who used to be an entrepreneur for IT venture, moving to the local to be involved in this project. From a media perspective, there are many angles to interview from."
You can understand the authorization stamp that the media gives to this project by looking at the pictures and reading the messages. Now let's take a look at what the project is actually about.
The size of Tottori Gainare's business is about 400 million yen. It's not one of the most rich resourceful clubs compared to others within the league. Number of staffs are limited, but they come up with unique businesses one after another and some people gives them the reputation of being the club that is the closest to representing the J.LEAGUE 100 Year Vision. The project of bringing back the fun in the park is another activity that illustrates the philosophy of the club which started in 2003.
We would like to look at what kind of thoughts are into this project that are working in the land of Tottori. To hear the stories, we requested to interview three members from Gainare Tottori, Isao Noguchi (Grass Producer Representative), Yusuke Takashima (Shibafull Business/PR manager) and Yasumichi Uchima (Hometown Representative).
**********************
Each project coming into shape
―How did you feel after hearing about the award?
(Takashima)We're happy that the attraction of our city and club are being recognized in this way. It gives us confidence that the things we have been doing in Tottori was not wrong and we hope this will lead to our hometown activities in the future.
(Noguchi)We have been working one thing at a time which was in front of us and continued to make each one into shape. It's a good thing that there will be more activities we can do using Shibafull. We were anxious at first. This was made possible not just because of our club's philosophy but it had a lot to do with having somebody like Mr. Uchima and others that have strong feelings toward the hometown activities.
(Uchima)We are happy about the award, but the fact that we are able to accumulate all the things we have been doing into something in this shape is the most rewarding. We feel our value as a club is reaching to a larger audience and our local people's mindset is changing too.
(Takashima)In 2017 right before I decided to come to Tottori, Tsukano (note: President of Gainare Tottori) told me we are starting a "Business with Grass" and I had to ask back "Are you serious?" However, Sanko Co.Ltd., MIRAIZ Eishin Group Co.Ltd., Chubu Co.Ltd., was already backing us up for this project as partners (note: Check Shibafull Project website for details) and the base was already completed so we needed to answer to this. I left the grass production to Noguchi san and I took charge of the structure and PR side of the project. My responsibility was to not make this just a local activity, but to push and organize this as long-lasting business and spreading the word to a larger population. I felt a lot of possibilities in this project.
(Takashima)As of the management strategy, we definitely have to consider the profit but we felt the networks we grow from this project will be really valuable for the club. We have only worked with people that we see face-to-face up until now. The number of kids that played on our grass, the number of parents that have brought their kids and the personal relationships we have been able to build through Shibafull has definitely increased. We feel the relationship is not over after selling, but it's just the beginning. As the grass continues to grow our network, we feel it leads us to a brighter future. Then the hometown activities will directly be connected to our club's importance of existence.
After the fight with anxiety
―Can we hear about the difficulties you had regarding production of the grass?

(Noguchi)I used to be a teacher and I wanted to create a club in Tottori to send the message that it's a place where kids are able to dream and they can be eager to challenge. However, at first, I was hesitant whether I can keep my motivation going away from football and working on producing grass.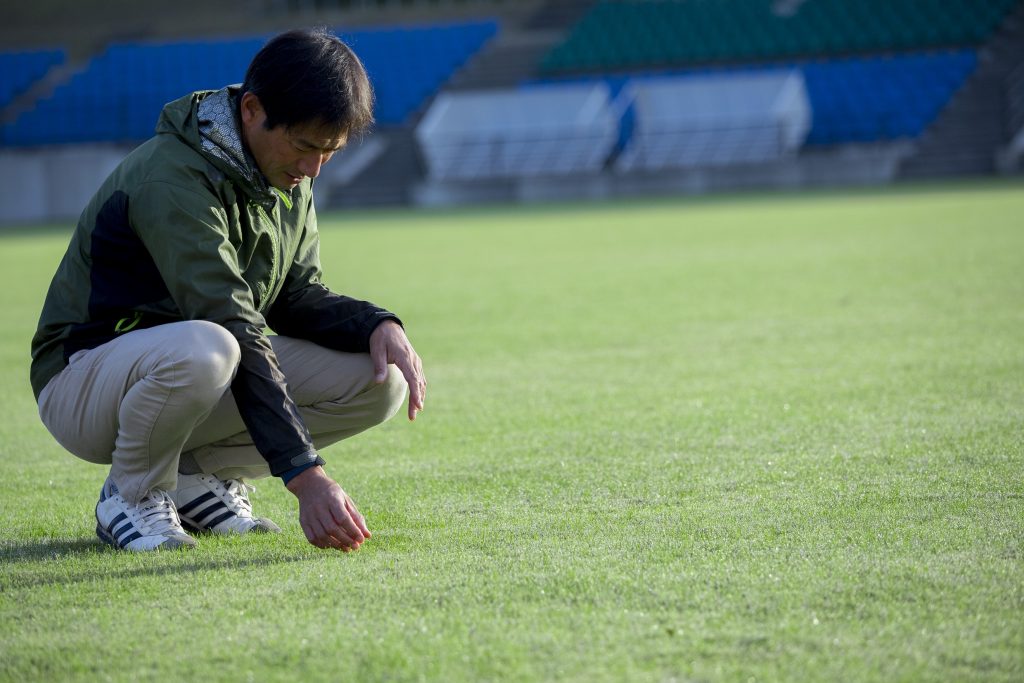 Producing grass, it's an agricultural work. Problems came up every day. We started from borrowing a field. We worked through a government matchmaker structure, but it took a while for us to actually borrow. Even if we were able to borrow, we were told to make the abandoned field clean by April which was only two to three months ahead. We were like, "What do you mean by clean?" We were able to get help from a connection of one of our supporters who was a farmer. He helped us level the field, but we were all covered by dirt at the end of the day. Then weed starts to grow every two weeks. To be honest, I wondered what I was doing at times.
In the midst of that, we were fortunate to receive an opportunity with cooperation of our project partner to promote and display our grass at an exhibition at Tokyo Big Site. We were hesitant at first to display our grass indoors, but it resulted in high appraisal. We were acknowledged by a pioneer of SDGs as well. We were asked to "eat the grass if it's organic," so I ate in front of him. When you looked back, we started this project because we didn't have much budget and after I recognized that I accepted the fate I was in.
Fortunately, Tottori was an ideal place to grow grass. Also, in Tottori, we had one of the experts of Grass production in Chubu Co., Ltd. Sanko provided the fertilizer and had the relationship with Gainare's president. Also neighboring farmers lend us their tractors. We were very fortunate in many ways.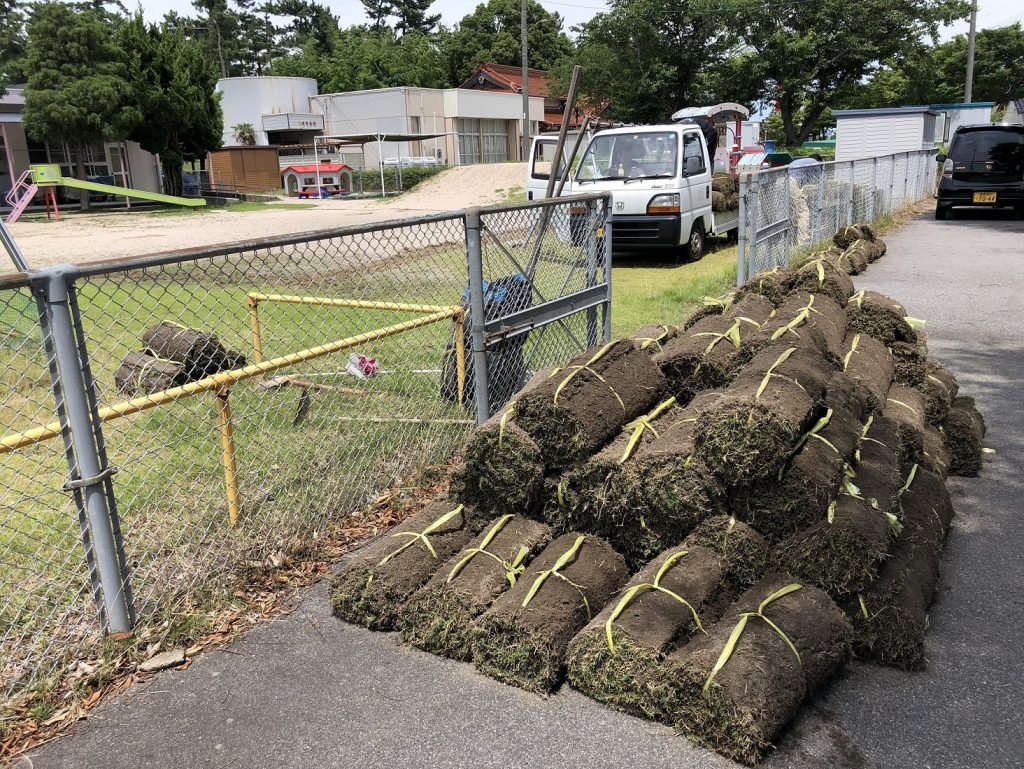 After starting production for over a year, we were worried if we were able to deliver, but Chubu did a final check on the quality and confirmed it was good to go. We felt relieved, but it was our first time trying to work the shipment. When you ship grass, you need to roll it up, but carrying this is some hard work. "Are we really going to continue this?" was my true feelings at the time.
However, what stuck to me then was that people from Chubu was proudly producing grass and told me how enjoyable it was. They had pride in working with the grass daily and I was able to sympathize with that. After shipping, I was able to see the grass spread out in pre-schools and kids running around and having fun. That's when I finally felt some accomplishment and recognized what I was working for.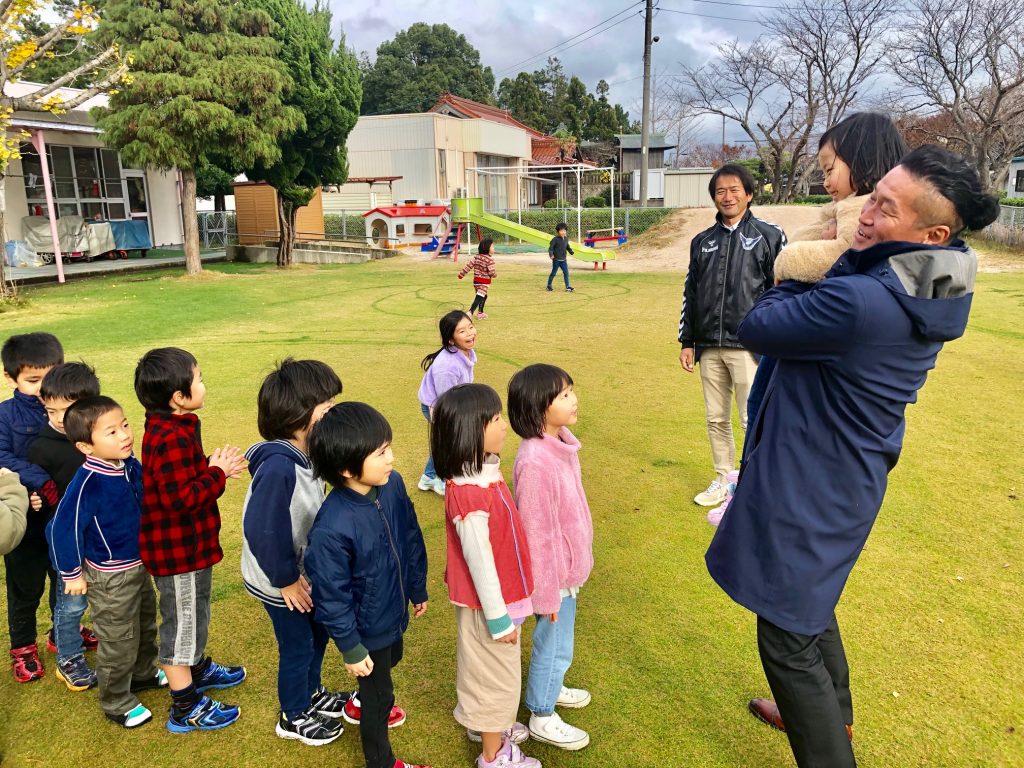 After that in spring of 2019, with involvement from our sponsors we have brought in people from the working facility of special class for handicapped children and people of disabilities to join us for a monthly workshop experience.
Regarding production of the grass, we had many failures. In one incident, we were not aware that materials needed to be ordered half a year in advance. The weeds outgrew and we felt the grass from one of the fields will not be shippable. We went in the morning and repeatedly mowed.  At the end we were able to deliver, but we were working to make it till the last minute.
Offline over Online
―13 Million Yen from crowdfunding. It was amazing.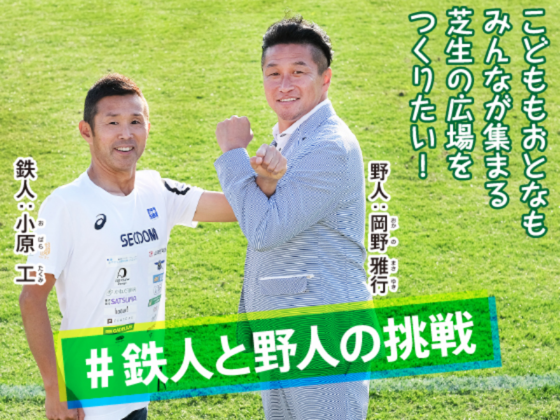 (Takashima)When we look back, the crowdfunding had a lot of work involved. The reason for success had to do with creating an executive committee type structure which allowed other sports organization (Tottori Triathlon Association), local CATV (Chukai TV network). The prefecture and the city also supported us. However, the executive committee did not have much strength, so when I was elected as executive director, I felt the pressure of not being able to fail after receiving all this support and I was one step away from neglecting myself.
What I was able to learn was although the scheme of crowdfunding is done online, the people that actually supports us are who we are strongly connected offline. Ultimately, we cannot do anything alone and we need to involve people from the community and continue to involve more partners in crime. Just doing good things may not reach to people. It's important to continue until it actually reaches, and I was able to find out there is a lot more to it than telling people, reaching to people, and then people wanting to act. People doesn't take out money from their wallet just because they were moved. There are many reasons to it and all of that was a great way to learn.
After seeing the power of human-to-human connection, I looked back on myself and wondered how I will be able to learn that. I tried picturing it and I felt it's going to take a while. This may be a character of a local club, but sharing the memories of where you played during your childhood and some mischievous things you done could be an opportunity to connect and engage when cheering for a club.  When you make your local community the topic, the more local it is, the more power it would create.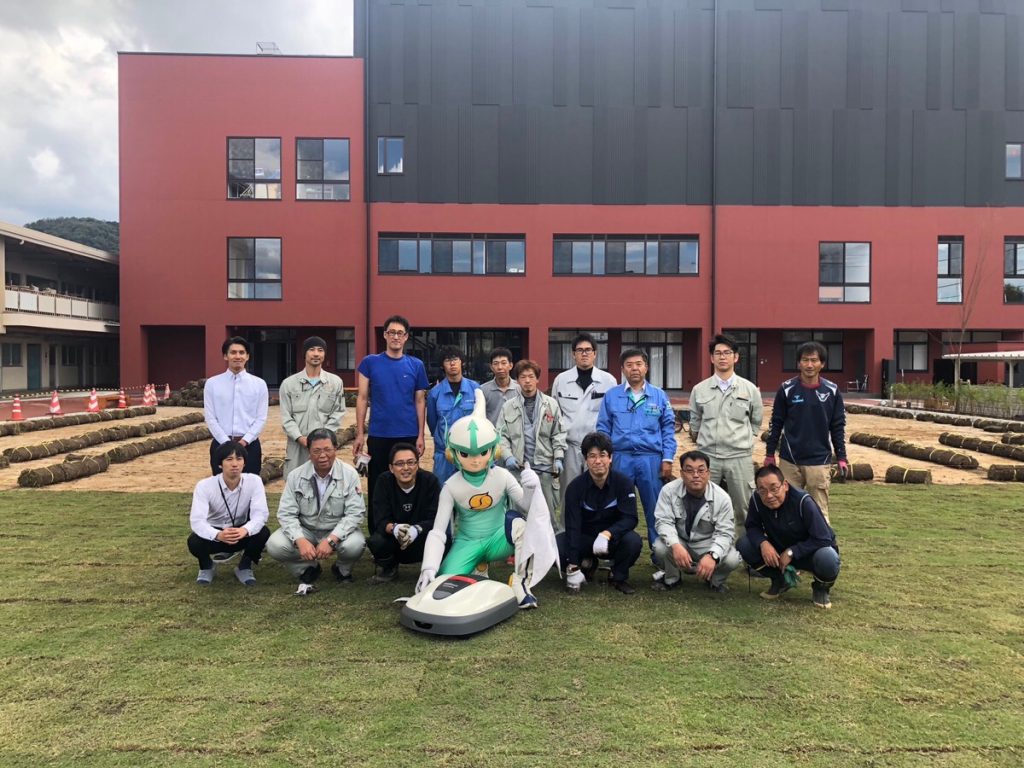 I was able to see the connection get bigger through crowdfunding besides from looking at the number element. It was all new to me to gain value besides from money and it was the connection with sponsors, people who lend us fields and the people we were able to interact with from our grass production. It was completely different goal settings from my previous job working in the IT industry. My values and the meaning of work and connecting with people definitely changed.
(Noguchi)What else worked for the crowdfunding was that we just didn't start it out of nowhere, but used a strategy called future session and created a platform to talk about the future of Tottori with the local people. I am sure it was difficult for Mr. Uchima to work without having much time and human resources.
Fun beats out busy
―Uchima san, you were the one creating fun at the park and also ways to enjoy on the grass
(Uchima)I am always on-site working. But the last two to three years, I was able to challenge new things with the crowdfunding and future sessions as part of the hometown activities. We are able to find out new opportunities as a club. A lot of exciting things are happening.
We have been working toward creating fun in the park from 2003, but through Shibafull we felt how we present it is as important. The key from now on is execution and how we tell the story. It may not relate being online but talking with the principal for just 30 minutes might make the difference. We want to be on-site and get close to the people and make it as if Noguchi san is always talking to the local people.
There are many things we can do being in Tottori. There are some pessimistic thoughts locally, but we want to change that. Rebellious heart. We want to show that there are adults that comes up with crazy things. I have been working with that thought in mind. Even if nothing is in the works, I would come to the site and show we can do something. Nothing will reach to people unless we experience it. It may be small things, but I want to show my way of life not as a former professional football player, but as an individual human being.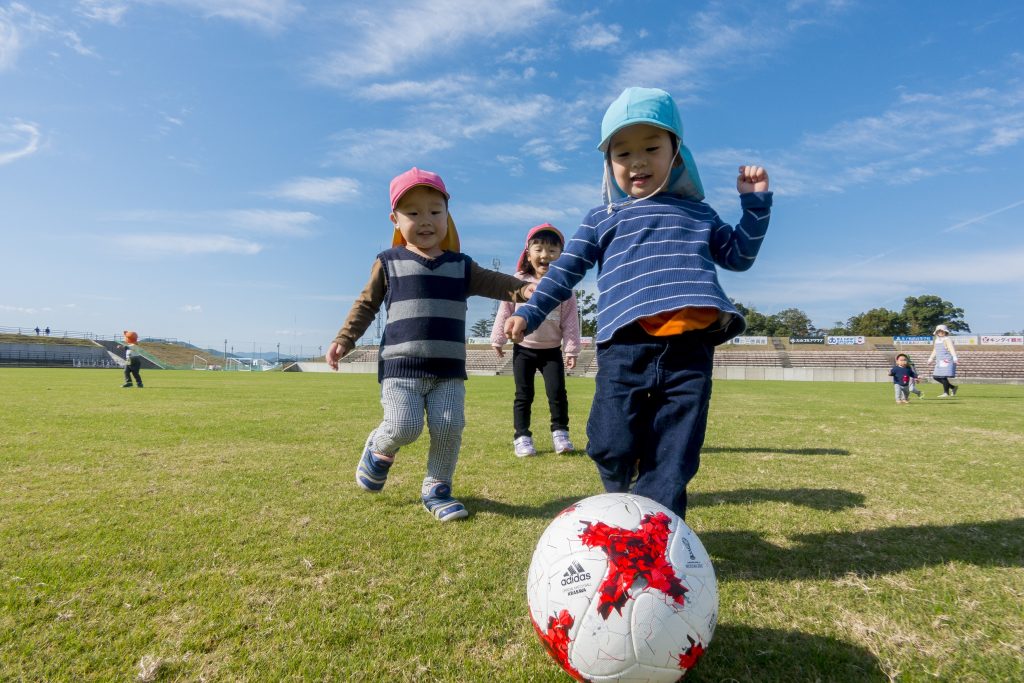 What I value is to continue being a kid by heart. Always having a kid's perspective and seeing where they show interest and when they outgrow themselves. The subject is always the kids. We always keep an eye out whether they are having fun with a smile on their faces.
(Noguchi)The principal was the one who created the club originally and with many alumni the attachment is there with a cycle you can see often in locals. I like the club, the local and I feel I am doing enjoyable things. I finally realized that grass can be a source of revenue and we can promote Tottori as a land of producing grass. We can involve our players from the youth teams. Fun is exceeding the difficulty of the project.
(Noguchi)As we first got out on the field, there were criticism at first. We are not just borrowing the land and the fields, but our ancestor and the valuable source of water as well. We have a lot of responsibility. We tried to show up in the locals as much as possible and increased in developing network with the neighbors and the elderly. Even though some did not have a good impression on football and Gainare, after two to three years people start to root for you. It takes time to be a part of the local community. I was able to learn the importance of being a part. It's resulting in enriching my sense. All the connections and the expansion of our activities is leading me to develop a role and sense of existence which is all heading in the right direction.
(Takashima)Although I have a genuine feeling of doing this for the locals and kids of Tottori, I have a stronger feeling toward proving what the club has done so far and its possibilities. As I continue to watch the two, I feel that more than ever. This recognition with the award has allowed me to take some pressure off my shoulders and also is a good opportunity to look things back and feel somewhat of an accomplishment in being able to build something. I hope this leads to confidence and reward for all people that were involved.
Love to the Community and having pride
―Do you have a future dream?
(Uchima)I would hope the kids are able to say I love this place! I don't want them to feel it's a place where there is nothing to be proud of. We would hope to deliver the love to the community through our activities. That's something that I would like to continue valuing.
(Noguchi)My thinking is similar to Mr. Uchima. I would like people to have pride of where they are from. I want them to spend their time here feeling the attraction. In order for people to have that feeling, we need to create something that is visible and hopefully Gainare Tottori will be in their minds too. For people to keep an eye out on where we stand in the standings. We hope to have that kind of presence. The message behind it is to be a club that people can be proud of to the whole world. If that happens, that will naturally become a pride toward Tottori. In order for that to happen, continuation and always being there is important.
(Takashima)Besides from the time I am asleep, I always hope that this club will continue to exist in this community 100 years from now. One way for that to happen is Shibafull and in the future we are looking to work together with AgriTech companies. We are looking to create businesses that appears Tottori-ish and create connection that lasts. The reason I was able to have this way of thinking is because I like J.LEAGUE and I have seen people being devasted that the club they rooted for suddenly disappeared from their community. We never want to lose the club from this community. As long as the club exists, we can keep on challenging. It would be a dream come true to become a place where everybody wants to work in Tottori and become the No.1 place that provides job satisfaction. There is already a lot of good things here, so we will continue to challenge to promote and make things happen.
*******************
From talking with the three, the respect they show to each other was obvious. The different strength they bring to the table creates a synergy.
It must have not been an easy road. Getting dirty and building one by one is what they call a fun experience.  Each had their heart into challenging themselves in Tottori. It gives me a feeling the serious challenge they are putting up for themselves has just started.
When we launched SHAREN!, we used backcasting to talk about the delusion of the future. For one of my delusional episodes, I focused on Tottori and talked about the fun in the park project to spread all over the prefecture. Five years later, having local grandpas to become a Gainare type play leader and actually become the one that develop leaders. If we can see that type of scenery that would be awesome.
When you look at it from a SHAREN! perspective, it would be great to see a J3 club that's a bit different to win an award. We were talking that would prove the different characteristics that exists in the J.LEAGUE. One of the delusions we were talking then actually became a reality and I am deeply moved by it.
Now the kids who had participated in the fun in the park activities are now older and may now have their own kids and take them to the stadium. I am excited to see how the kids grow and create a community after watching their parents have serious fun. The scenery of young and old, men nor women all enjoying their time over the field of grass is the vision of the 100 years visoin. I strongly feel the light is shining toward that path.
**********************
Regarding the acceptance of the award, we have received message of joy and hope from the leaders of each of the three partnering companies and also the mayor of Yonago city. I would like to add these messages along with their message of support for the club for the future as well.